It all started with a Valentine… Sort of.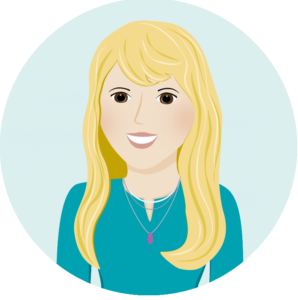 Hey, there!  My name is Kaeryn Brooks.  I'm the author of WinterPromise, and I am often asked how WinterPromise came to be.  I love that question, because most of the time families pose it because they've found the heart behind WinterPromise — a heart hopefully longing for service, for reaching all kids (not just the "student-y" ones," and most of all — a heart for Christ.  I'd like to think these families feel that WP has become a good friend that sits down with them over a cup of coffee to help nurture their kids' passion and their family life and culture.
So, when they ask, I get the feeling they want to know what makes that "heart" tick — and that's quite a journey, one that I really trace back to that valentine.  If you'd like to hear more about all that, here goes . . .
It all began in my first grade class, when Miss Broton asked us to draw a book cover with an exciting story name and a great picture on the cover. Crayon in hand, I named my story "The Valentine That Ran Away." My pink valentine had funny, skinny legs and a twinkle in its dot eyes as it seemed to be speeding off the page. I was thrilled when Miss Broton looked at each of our covers, and let us go home with them. They were done.
But I wasn't. The cover I had made inspired me. Where did the Valentine go? What happened to it? Did someone find it and take it home? I wanted to know the end of the story. But to do that, I had to write it. And I did. The next day I marched back into class with my completed story and gave it to a surprised Miss Broton, who of course had no inkling that anyone would actually write their story. She read my story, laughed a couple of times, and then shared my feat with the class. Which was all marvelous, of course, until Miss Broton told the class that everyone else could do what Kaeryn had done. A few of my classmates actually glared at me. (This did my popularity contest no favors.)
Well, that should have been enough to have convinced me I wanted to be a writer when I grew up, but I missed the signs. It wasn't until after I started raising my family that my writing skills started really coming in handy. As my husband is a pastor, I frequently supplemented our ministry salary with contract work of some kind or another, and I was able to write for our church ministries as well.
It was really after starting our homeschool journey that writing became important. At first we homeschooled because we wanted more family time with the requirements of ministry, but eventually we fell in love with the lifestyle and the relationships we were building with our kids. Everything was great, except that I couldn't find the curriculum I wanted. The primary kinesthetic program I tried should have included a full-time salary, because that's what it took to pull it off. I wasn't spending time with my kids, I was constantly prepping elaborate and sometimes bizarre activities. Next we jumped to a literature approach program. It was less work, but we spent hours each day reading (which my kids were already doing anyway), and at the end of the day they had a little trouble relating any true, hard facts. We spent a few years jumping from thing to thing — workbooks, computer programs, online courses, fun do-dads and bezeezers — it went on and on, and still wasn't what I wanted for my family.