Shop Our State Study Program!
Check out our Exploring Alaska State Study! With this study you and your student will study the history, geography, culture, and even some of the politics of Alaska! You will study the who the Lewis & Clark of Alaska were, mining in Alaska, how World War II affected Alaska, and so much more! Below you will find some sample pages and images from this study as well as a list of resources you would need to complete it!
Check out below to learn more!
This study schedules a handful of books that would need to be source outside of our website. We did our best to pick books that are easily found in libraries across the country and still being printed if families wanted to purchase them new! Don't feel as though you need to use the optional books or the Devotional resources either, those are optional to the program for the families who would like to use them!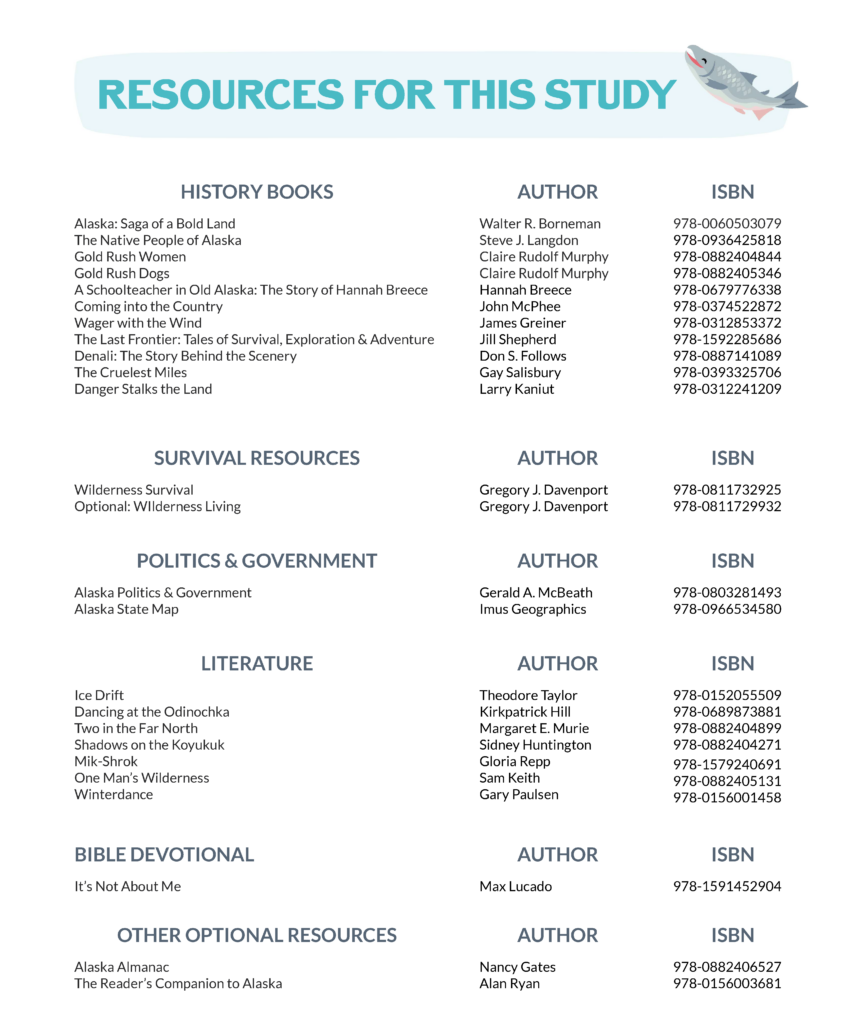 Here is a list of the topics you will cover in this 18 week study!
NATIVE ALASKA
Week 1: The Great Expanse of Land
Week 2: Russia & the Fur Trade
Week 3: Alaska's Russian Period
MAPPING ALASKA'S BEAUTY
Week 4: Seward's Folly Buys a Bargain
Week 5: The Lewis & Clark of Alaska
THE ALASKAN RUSH FOR GOLD
Week 6: Gold is Found
Week 7: Gold & the Boom Towns
Week 8: Mining in Alaska
ALASKA & THE WORLD WARS
Week 9: The Serum Run
Week 10: Alaskan Aviation
Week 11: The Alaskan Highway
Week 12: World War II in Alaska
GEOLOGIC ALASKA
Week 13: Alaska Becomes a State
Week 14: Earthquake!
Week 15: Oil!
Week 16: The Alaskan Oil Pipeline
Week 17: The Exxon Valdez Disaster
ALASKAN SPLENDOR
Week 18: Denali and the National Parks