A Three Week Thanksgiving Study!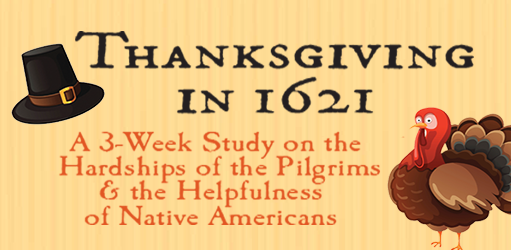 As we get closer to Thanksgiving, there are items we always make sure we have! A turkey or a ham, the pumpkin pie, enough chairs for dinner guests and enough silverware to set the table with! Why not add a thanksgiving study to the list as well?
Thanksgiving in 1621 digital study!
This is a three-week study on the journey and hardships that the pilgrims faced when venturing to the new world!
This study will give you guide pages, teacher notes and other helps along the way. You will also have all of the interactive journaling pages for the study to print out and use with your students. Along with these great journaling pages you will have reading pages, links to great websites to explore as well as recommended resources you can add to it!
What you'll do!
In week one you will learn all about who the pilgrims were and why they voyaged across the ocean and some of the first things they did when they found land. You'll also label the parts of the Mayflower, create a countdown calendar for fall activities and more!
In week two you'll learn about the Mayflower Compact, how Squanto learned to speak English and more! You will read about meeting the Native Americans, finding a place to settle, as well as do fun activities like make a pilgrim boy or girl hat, or create your own Thankful Fold-Up book!
Then finally in week three you will learn about the how the Native Americans helped the pilgrims and all about the first Thanksgiving and what it looked like for them! You will also finish up your Thanksgiving prep activities by making a Thanksgiving recipe for your Thanksgiving dinner and more!
Make sure you add this great unit study to your studies this year as it adds great family fun through activities and insightful discussions regarding what you are thankful for this year! All while learning about an important piece of history!
Click here to view the Thanksgiving Study! Use the coupon code THANKFUL to take 30% of this Digital Study!
https://winterpromise.com/wp-content/uploads/2023/11/Thanksgiving_in_1621.png
250
511
https://winterpromise.com/wp-content/uploads/2023/04/WinterPromise_Main_Logo_Original_Medium-300x53.png
2023-11-01 00:01:00
2023-10-10 10:19:49
A Three Week Thanksgiving Study!