BEING A CHARLOTTE MASON "PARENT-TEACHER" (a note from WP author Kaeryn)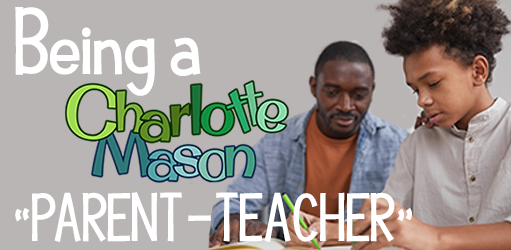 I remember when I first met Charlotte Mason…
Okay, not really "met," but got to know.  I was immediately struck by Charlotte's intuitive understanding of children and how to educate and train them.  I was also hugely impressed by how counter-culture Charlotte's ways are in today's world.
If you haven't gotten to know Charlotte Mason yet, and you are hoping to be a good homeschooling parent, a great "Parent-Teacher" — or at least aiming that direction :), then you should "meet" Charlotte, too!
There are a lot of summaries of Charlotte's ideas online, but here are the basics:
Charlotte Mason was a British educator who worked with children for years. She believed in exposing children to great ideas, wonderful literature, God's Word in liberal amounts, and beautiful artwork, and she called for challenging them in a way that gave them a love for learning. She believed in teaching history, getting children to tell back what they know, and — most of all — Charlotte believed in joy!
As a Momma myself, this is what perhaps convinced me that I wanted to be a "Parent-Teacher" like Charlotte.  After all, if I couldn't bring my children joy, and teach my children the joy in curiosity, in exploration, in discovery — what was parenthood for?
As I delved into Charlotte's methods and thoughts, I found new ways we were kindred spirits.  It was a thrill to hear from someone who did not believe that raising your children meant teaching them to cram for exams, run around to endless extracurricular activities, and fall into bed exhausted at night.  Charlotte's ideas were freedom.  Freedom to develop a lifestyle that was not at all like school, not at all over-busied, and above all — not self-focused.
The freedom we found was like finally breathing again.  It meant so much more, you see, than just that we'd found a homeschool method that worked for us.  In fact, we'd found a lifestyle!
We've had a chance to live the Charlotte Mason lifestyle for a lot of years now, and we've just seen our lives change so radically from what they were before.  Here's what I've learned along the way:
I have never spent one moment thinking about how I wish I done things differently.  Our lifestyle works for us, and it works for our family.  It is a servant to, not a master of, our souls.  It supports our family — it does not "run" our family.

My children have had enough free time to think big thoughts on their own, and that has allowed each one to blossom and develop in their own unique way.  They've had to time to explore the world their way, to be curious, to investigate, and it has made all the difference in how they relate to the world.  They reach out to the world and experience it, a true contrast to how many children have to depend on "packaged" experiences in classroom or sports arenas.
The time we've had together that wasn't "overplanned" and "over-scheduled" reaped so many more benefits than I could have imagined.  As my kids have grown up, I can see each day how much that has meant to their development.  They are comfortable with conversation, deep relationships, reading, and self-improvement.   We've had so much time together, time we used to mold our kids' character and develop their relationship to Christ.  We've had time to teach them skills and common sense, courtesy and manners, and simple leadership skills like timeliness, follow-through, accountability, servanthood, and working as a team.
I really could go on and on.  In short, I am thankful every day that Charlotte's simple wisdom traveled across time to whisper to me the things for which my "Parent-Teacher" heart was longing.  She pointed the way to a Christ-centered, family relationship-focused lifestyle that changed our lives.
So, when God gave us the opportunity to create a curriculum that would allow homeschoolers to really enjoy their journey, it only made sense that we build it the Charlotte Mason way.  We've included many of the concepts that Charlotte Mason advocated, and added a few we fancy Charlotte would have if she were living in this century!  We've made it easy to do yourself, without having to pull a bunch of things together on your own, so there's still plenty of time to invest in the character of your kids.  Plus, we made sure to include the kind of life learning that so benefitted our own kids, and really stuck with them as time went by.
So, now, I whisper all of this to you, too!  Don't wait!  Go out there and get some Charlotte Mason in your life!
It may be that WinterPromise offers you a start on that lifestyle, and we'd love that!  But be sure to meet Charlotte Mason in any case, so that you can develop a lifestyle that suits you as "Parent-Teacher," and develops the promise in your own family!  You'll never be sorry that you did!
Kaeryn
Curious to learn more specifically about Charlotte Mason?
Check out our blog Meet Charlotte Mason & Her View of Education!
https://winterpromise.com/wp-content/uploads/2022/12/CM_Parent_Teacher-1.png
250
511
https://winterpromise.com/wp-content/uploads/2023/04/WinterPromise_Main_Logo_Original_Medium-300x53.png
2022-12-21 13:07:24
2023-10-18 16:45:54
BEING A CHARLOTTE MASON "PARENT-TEACHER" (a note from WP author Kaeryn)