Building a Family Culture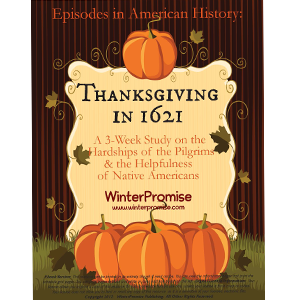 How Can WinterPromise Help You Build Your Own Family Culture?
WinterPromise was built from the get-go to promote and support your family, to build a family's own internal culture.  How?
By Providing Themes Family Can Work Through Together . . .
Most of our themes are designed to keep your family learning together — not divide and separate you.  We have themes to help unite families that include a lot of different age ranges, and themes that will work as your family grows older.  Your family will study history, culture, or history together, and yet still find practice in skills areas (such as language arts and math) that are perfect for their individual grade levels.
By Working Through High-Interest Topics That Keep Kids Intrigued . . .
Each day your kids come together to learn, they're ready to absorb something — it just has to be interesting, capture them in some way.  We here at WinterPromise figure there's just no reason at all that learning has to be dry or dull.  Interest kids, and they'll take off on their own.  That's why so many families write in to tell us stories of how kids don't even consider their WP themes "school," but fun!  We love hearing that — and love knowing that kids all over are inspired by their own joy in learning!  This joy gets them extending the learning into playtime or even work time, creating their own culture as they go.
By Offering Resources That Get Kids Imagining . . .
What's better than finding that your kids have taken the germ of an idea and run with it?  You see it come to life, and see their soul in what they've created.  WinterPromise resources are designed to trigger that process.  From ideas on making historical hideaways to creating medieval signboards or a Roman milestone, we give families the kinds of projects, experiments, and hands-on challenges that get kids creating and imagining.  It's a great place to make memories, and your own fun culture, remembering what you did, when.
By Leading You to Experiences That Help Create Unique Family Memories . . .
Yes, WinterPromise offers you practical activities you'll actually do, but WP also offers tons of ideas for other kinds of experiences, too.  You'll encounter ministry and service opportunities, ideas for field trips, ways to visit virtual museums or landmarks, instructions for trying out real-life skills, as well as historical games or recipes.  All of it can be done together.  They teach older kids to be good leaders and managers, get younger learners cooperating, and pass along new skills to everyone.  As  you go, of course you run into experiences that turn into fun or embarrassing moments.  That's just more memories, more family culture, more stories to share.
By Providing Great Discussion Opportunities Around Every Corner . . .
One of the best things about WinterPromise is how the resources we bring you create opportunities for your family to discuss the really important things.  You'll find it in resources like our "Prayer and Personal Involvement Journal" from our "Children Around the World" program, a resource that specifically gets kids thinking about how much they have that others do not, and how that links up to their understanding of the world around them, what they need to do about it.  Resources like this one are sprinkled throughout our curriculum, and provide the springboard parents need to talk about the really important things with their families.  The kinds of things that sometimes get lost amidst finding toothbrushes or walking the dog.  More opportunities to talk about the important things equals more time to pass along values, more time to build character, more time to really know one another, more time to mentor and serve one another.  That's the best kind of family culture.  The kind we here at WP want to help you build!
Why not try WinterPromise and see for yourself?
https://winterpromise.com/wp-content/uploads/2022/11/Thanksgiving_Cover.png
300
300
https://winterpromise.com/wp-content/uploads/2023/04/WinterPromise_Main_Logo_Original_Medium-300x53.png
2014-01-17 21:18:37
2014-01-17 21:18:37
Building a Family Culture